Everyone who dreams about their own house with a lawn and a garden will sooner or later be confronted with choosing the front door. The exterior door, for a detached house, are bought usually no more than a couple of times during a lifetime that is why it is extremely difficult to choose the right option. What kind of exterior door should you choose for your house? Is it worth to choose wooden or steel exterior doors? And the most important thing is for all household members to feel safe inside and for the heat to stay where it should be – inside the house.
METAL EXTERIOR DOORS FOR A HOUSE
Metal exterior doors are usually made of galvanized steel, which is then powder coated with a lacquer or coated with laminate. The inside of the door is frequently insulated with polyurethane foam that reduces the risk of the home heat loss. However, one thing is for sure, metal exterior doors guarantee high endurance to adverse weather conditions. If the door frame is mounted properly, you should not worry when the temperature outside drops. Metal exterior doors are undoubtedly the product that ensures a full sense of safety as the material that they are made of is solid and durable. Nevertheless, the choice of color is certainly a little bit more limited due to the fact that it is difficult to find veneer that indistinguishably resembles wood that, in turn, is a huge advantage of metal doors. When choosing doors for single-family houses, exterior aluminum doors are really popular among customers.
The merit of the veneer is the fact that it can be matched to the color of windows or gates. Unfortunately, despite their virtues, metal doors are much more louder during exploitation. In this case, the proverbial "door slamming" could be heard even by neighbors.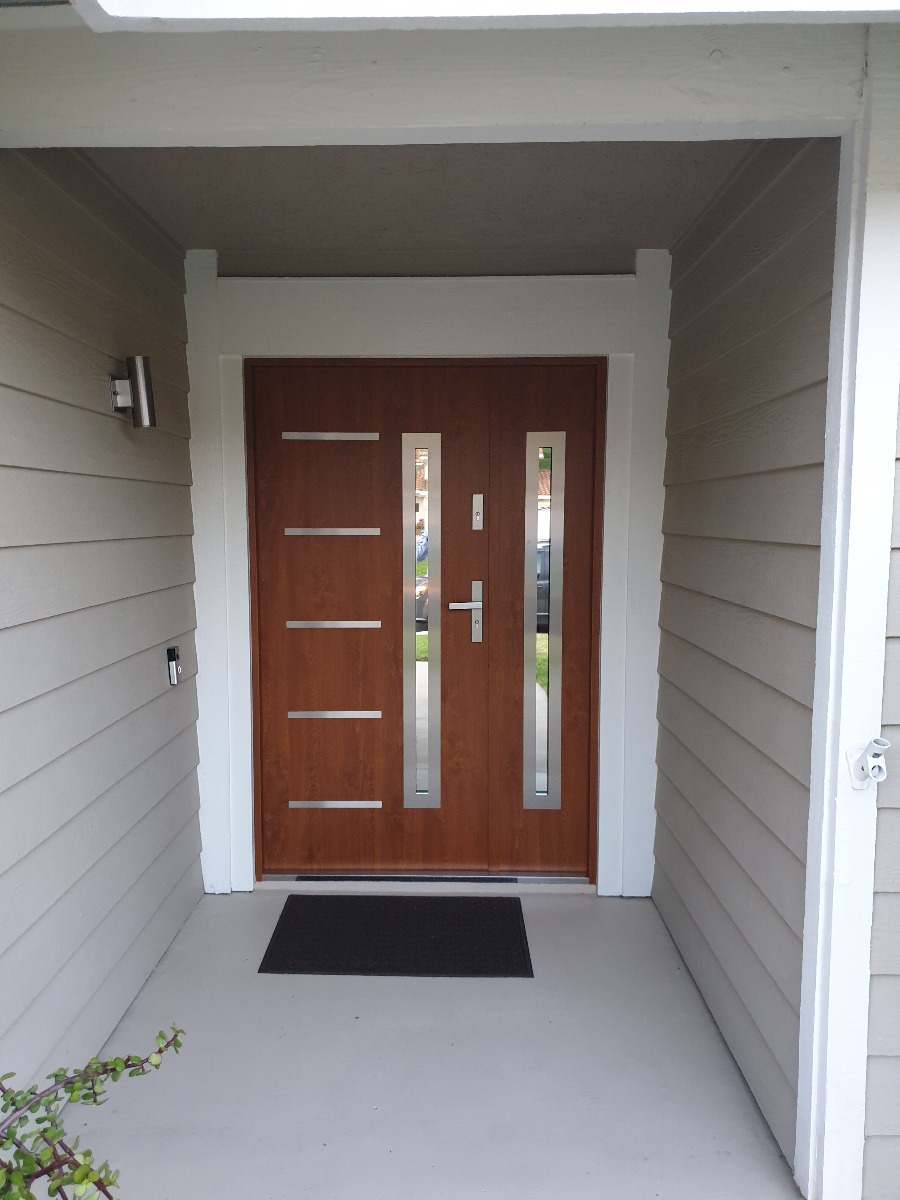 Sta Picard Duo - double front entry door
WOODEN EXTERIOR DOORS FOR A HOUSE
Wooden doors have been used as an entrance protection from centuries as wood has always been a basic raw material used for their production. If you opt for this variant, you can be sure that they will be a great heat barrier and the change in temperature outside will not cause you any problems. What is more, wooden front doors are additionally characterized by the low thermal expansion that guarantees that they will be closing properly all the time. Nowadays, all wooden types of doors, that are available on the market, are reinforced with steel or aluminum profiles, so you are sure that they will not collapse scratching the floor. When you choose wooden exterior doors for your home you can go crazy with colors, however, customers usually decide to get oak doors.
Most manufacturers, in addition to the basic color palette, offer the option to lacquer doors in any color from the RAL palette. And most importantly, after the warranty expires, you will be able to renew its color through the use of for example a wood stain. However, the biggest drawback of wooden doors might be their moisture vulnerability that is why they are not suitable for all types of entrances.