Gray is a universal color that is why so many people liked it, including architects. It is an ideal, neutral background color for accessories as well as decorations. Together, they create impressive arrangements. Anthracite shade of gray has been frequently used in architecture as well as interior design hence Anthracite doors. However, is it still fashionable? Or is it slowly falling into oblivion?
Anthracite – the name of this color has certainly been heard by everyone who, in the last few years, built or redecorated a house. Nonetheless, not everyone knows exactly what color is it, therefore, we would like to present you a simple explanation. The genesis of the Anthracite color comes from the name of the precious variety of carbon. The rock is black, with a metallic gloss that is why its color seems to be black, but simultaneously it falls into gray. Simply speaking, it is a popular shade of gray that Anthracite doors adopted.
In the most popular color palette, the RAL palette, Anthracite has a 7016 numerical indication. Anyone who is planning to build a house or redecoration should memorize this number. Due to its qualities, the color has deeply anchored in the construction market as well as interior design. For example, Anthracite gutters, roof tiles, garage doors, fences, paints or Anthracite windows along with doors can be found.
Anthracite exterior doors, even two-color
Anthracite perfectly combines with concrete, steel or wood that is why it suits to either classical, minimalist, rustic, loft and industrial houses. It greatly matches with contrasting colors. What is more, it creates a harmonious combination with white, but it is also a very good background for vivid colors, therefore, it is worth to experiment and combine it with raspberry pink, turquoise or lime colors. In the CAL collection, we appreciate and like unique combinations that is why we are more than happy to paint your dream doors according to your idea. For instance, from the outside a wing and a frame in Anthracite color, yet white from the inside? Or maybe the frame in Anthracite and a wing in a juicy orange? No problem! Two-color doors give loads of possibilities for customers who are looking for individual solutions that can complete your Anthracite doors.
Stainless steel and Anthracite – perfect combination for exterior doors
Steel and Anthracite are blend that will never go out of fashion.
Anthracite, wooden aluminum doors!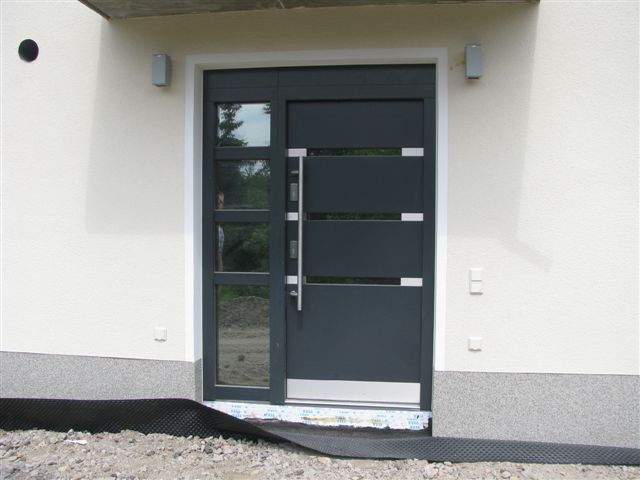 Mszczucal - solid wood front door
For everyone who is looking for doors for a special task, that are durable and resistant, we recommend wooden aluminum exterior doors. Doors with aluminum lining, in Anthracite color and also in the combination with stainless inox steel, are simultaneously providing natural thermal parameters along with the beauty of wood. Undoubtedly, it creates a perfect marriage that is also available in a veneer version.
Without a shadow of a doubt, Anthracite is a timeless color whose presence on the construction market as well as in interior design is definitely not coming to an end. Due to its popularity, a cohesion in arrangement is easily achieved as this color is present in the basic color palette of every building or finishing materials manufacturer. It has to be underlined that Anthracite exterior doors will fit to the most popular plastic windows or garage doors. For the enthusiasts of aluminum joinery, we recommend to limit the material to windows and gates and to complete them with wooden aluminum exterior doors in the same color! Wooden aluminum linings are complementary with Anthracite or Anthracite quartz finish. Coherent design will go hand in hand with the certainty that we have bought the highest quality protection for our family and home.