The decision regarding the exterior door for your home can be really difficult. Adequately chosen exterior doors will influence not only the appearance of the main facade of the building, but also can improve the energy efficiency of the whole building. That in turn, will have an impact on the costs of heating in the winter season.
What is more, the exterior doors protect your home from uninvited guests. They become a barrier for rodents, arachnids and also insects. They will not let pollen or dust inside which has a significant importance for any allergy sufferer. Gaskets located on the casing as well as wings that are adjusted to the frame have an influence on the high robustness.
The exterior door act also as an acoustic barrier. It has a crucial value especially when it comes to a multifamily home. If you have to choose an exterior door for an apartment in the block of flats than you need to pay attention to that feature. In our offer there are exterior doors for any type of the building, not only to the residential ones.
WOODEN AND STEEL EXTERIOR DOORS
Are you looking for an exterior door that will meet your requirements? Do you have no idea which types of door are going to fit best? If you answered 'yes' to any of those questions then you need to check our wide range of propositions. You can find door wing suitable not only to your house, but also to any type of room you need to.
We offer wooden exterior doors that will perfectly blend into the arrangement of your property. This natural building material is the most frequently used raw material for front doors. However, we offer much more than just exterior doors. If you need durable, yet slightly less glamorous doors for your company, choose exterior metal doors. In our offer you can find technical doors as well as fireproof ones. Those types of doors are suitable for your home as well as your company. It has to be underlined, that they all will surprise you with their solid finish and esthetic values.
EXTERIOR DOORS IN MANY SIZES
From our store you will buy wooden exterior doors that will perfectly fit the entrance in your building. You can find various width of wings in one place which is helpful as you do not have to change or adjust your project for your dream type of the door.
In extraordinary circumstances, exterior double doors can be used. Choose them, if you are planning to have an exceptional as well as presentable wide entrance. Moreover, you are able to choose the model that opens either to the left or the right side. Most types of our doors are available in both options so you will not have any additional problems with door frames. Due to our wide range of door sizes you will easily find the exterior door wing that will suit you in terms of parameters.
ESTHETIC AND FUNCTIONAL FRONT DOORS
Front doors represent you and your home. They are the very first thing that your guests are going to look at, therefore, they should be as elegant as your interior. Additionally, they reflect the style that you prefer in the interior design. In our store, you will find exterior doors in various colors and designs. You can choose from wood-like finish wings in a vast array of colors. We offer products in walnut, golden oak or teak colors that will highlight the character of your building. However, if you are an enthusiast of modern minimalism, have a look at the fashionable charcoal color wings. The large amount of patterns and shades means that you do not have to compromise and can choose the exact door you want.
Exterior doors are not only about esthetics, but also about their functionality. In our store, we offer several types of doors with steel inserts. Due to the reinforcement as well as the highest quality locks, included in the door set, doors are much more durable. Hence in the event of an attempted burglary, doors are much more difficult to force when compared to the wooden external doors.
If you are looking for a way to keep the heat inside during the winter, you should check the offer on exterior aluminum doors as this metal guarantees maximum thermal insulation of the door. This type of doors belong to the most expensive ones, yet such an investment will quickly pay itself back. Exterior aluminum doors are covered with a special foil which design resembles the natural wood.
EXTERIOR DOORS – WITH OR WITHOUT GLAZING
The color as well as the finishing design of your doors will have an impact on the final appearance of your building. An interesting effect could be achieved if you opt for a door that contains a decorative glass. A glass-panelled exterior doors simply look beautiful and allow more light into entrance hall. There are doors with round, rectangular or original windowpane forms.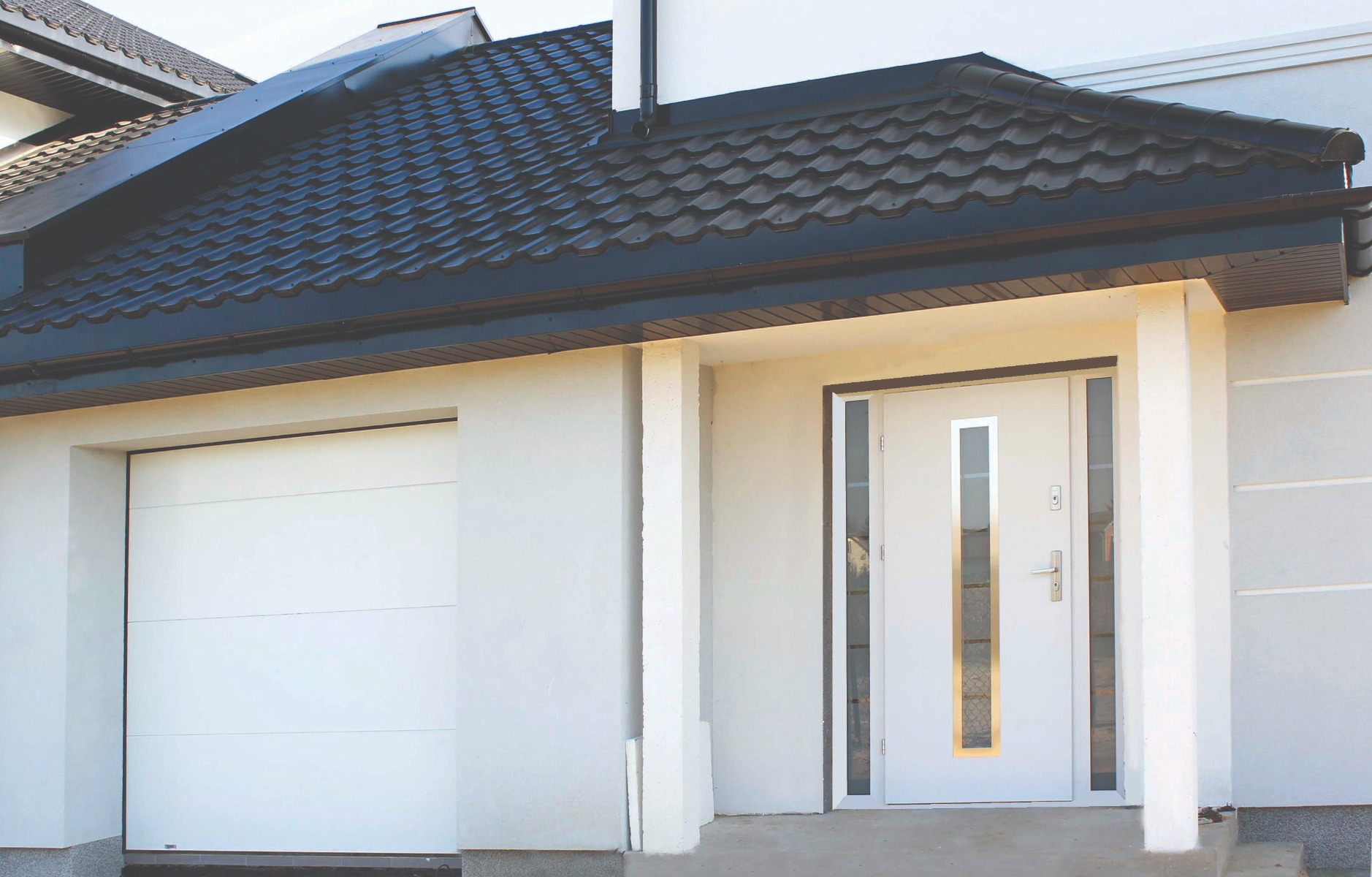 Fargo 12 - external front door
Flat glasses can be located on the door's plane in various ways. Unfortunately, esthetics does not correspond with practicality. You have to remember that the glazed door has worse heat insulation along with the poor protection against the burglary.
However, if you prefer traditional full doors, familiarize yourself with our offer that includes plain as well as attractively carved ones. Decide for yourself which one will look best at your home. Nevertheless, bear in mind that you will pass this significant addition several times each day and every year.