Every time we have to choose the exterior door for our home this dilemma arises. Which one should we choose? Wooden or steel exterior door? This article will analyze significant features of both types of doors and will help you to make a decision.
It is widely known that the exterior doors should be effective obstacle for thieves and other intruders so that they give their inhabitants the sense of security. Additionally, they should look esthetically as they indicate our taste and create the first impression of our home. 
Other qualities that are also important are for instance comfort of use, fireproofing, good soundproofing and what is the most crucial for some users, the high thermal insulation. Therefore, which door has more advantages?
Wooden exterior doors
Wood is, for many years, the traditional material used for doors making and people appreciate its virtues. Wooden door wing has very good thermal insulation qualities, good soundproofing and, of course, they are durable. However, the primary disadvantage is its low resilience to weather conditions. 
Even though nowadays technologically advanced protecting and preservative products are used, the manufacturers recommend to mount the wooden door at least under roofing and preferably when we have a vestibule.
In order to make wooden doors, oak or pine wood is frequently chosen. The door frame is made of high quality layered wood-based sizing that guarantees the durability as well as stability of the whole construction even if moisture gets inside. Today, manufacturers often use additional elements such as steel stabilizers or other reinforcements in order to strengthen wooden doors. Extremely durable, wooden-based HDF boards are used as main boards that are covered with wood, natural veneer or laminate that brilliantly imitates the structure of the wood.
Wooden exterior doors are very comfortable to use and their unquestionable advantage is their appearance along with a warm, homely impression they create. Just have a look at our CAL collection of exterior doors that displays solid wings that at the same time are modernly decorated with aluminum inlays. 
Steel exterior doors
Steel exterior doors are usually made from galvanized steel that is hugely resistant to weather conditions. The construction of the door wing is very often based on two-layered wooden stiles. As a thermal insulation polyurethane foam or expanded polystyrene is used. It is worth to look at our offer of exterior doors from the FARGO collection.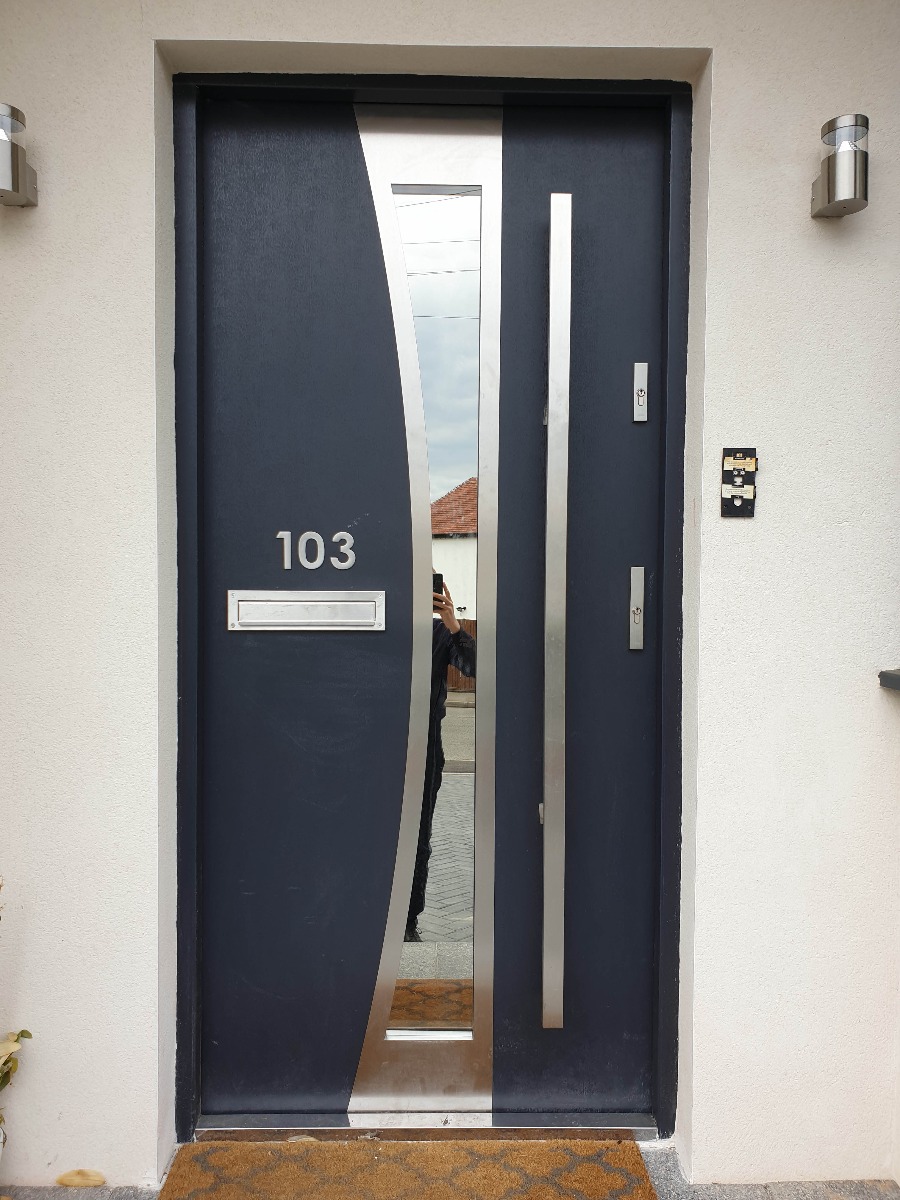 Fargo 37 A - solid single front door
When it comes to their features, steel metal doors are certainly more resistant to adverse weather conditions when compared to the wooden ones. However, the latter seems more user friendly.
What is more, steel doors close louder than wooden ones. In addition, one has to pay close attention during the mounting process as once they are improperly fitted and insulated they are a huge generator of a heat loss.
As far as the protection side is concerned, steel doors are unbeatable. Despite the fact that nowadays there are wooden doors with very good parameters of resistance to damage, balancing, remarkable locks and bolts the steel doors cannot be defeated.